I've been thinking about silence a lot lately.
As I write to you, it is an unusually quiet day in my San Francisco apartment. Save for the dull hum of the city and the sound of eating my bowl of oatmeal heated in coconut oil (try it, so good!), it is silent.
I've had more insights and calm focus than usual this morning (I am not a morning person), and I attribute it in part to being pulled in by the silence. Held by it. A kind witness with no agenda, steadily holding space.
Silence of course can have a flip side. Being so used to running around, working hard, eating meals on the go, working odd or irregular hours, giving our all to our friends, family, clients, students, or audiences, it can be a little eerie to stop and sit with the silence. N'est pas?
Silence can be so LOUD! Like a cuddly chimpanzee bashing symbols around your brain, pointing at things you may not want to look at: "What's that pain I'm feeling? Why am I so tired? Being this tired sucks! What am I going to do about XYZ? I should really be doing XYZ right now. Ugh, here comes the guilt!"
Or as Deepak illuminates: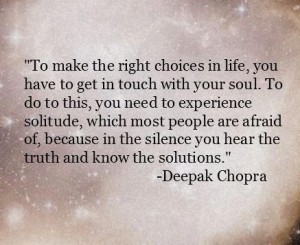 (If you're in the mood, I suggest checking out his and Oprah's 21 Day Perfect Health Meditation Challenge going on now. Totally free guided online meditations, and Day 14 is all about The Balance in Silence.)
Like Deepak says, when you're alone in silence, it can be freakin scary and uncomfortable. And the longer the intervals between taking a break and sitting with yourself, the more scary and uncomfortable it can feel (hellooo, accumulated stress!).
But it can be so so so useful. So healing, so refreshing, and so ripe with wisdom.
Enter the brilliance of bodywork.
In bodywork, you play the role of wonderful YOU, and I play the role of Friendly Silence. You get to experience the joys and wonders of this golden entity with guiding, non-judgemental and compassionate support accompanied by skilled, sensitive, and healing touch.
You gain a teammate, a cheerleader, and a guide as you bravely take time to listen to and honor your body and give back to it all it gives to you, one session at a time, so you FEEL better and better, THINK more clearly and courageously, and have more to GIVE your friends, family, clients, students, and audiences. (It took me years of doing my own healing work to fully understand the validity of this last part. If you haven't figured it out already, believe me, it's true.)
Silence is a rare and precious commodity, and you are so deserving of it. Because I said so : )
Expanding in Supportive Silence
Starting this SUNDAY, I will be offering bodywork at one of my favorite places in San Francisco: Yerba Buena Community Acupuncture! I will be there Sundays, 1-5pm, and Mondays, 4-8pm. In keeping with their commitment to providing quality, affordable healthcare, I will be offering sessions on a sliding scale of $1-2/min. Book a session anywhere from 30-90min. long by clicking here.
More affordable than a week-long yoga and meditation retreat, no? It's spring, a perfect time to try something new, grow, detox, and heal.
With love + magical silence,
Helena