A friend of mine recently got their eyes scanned and shared the photo of their retina with me. Holy wow! As if I needed one more reason to be fascinated by the body.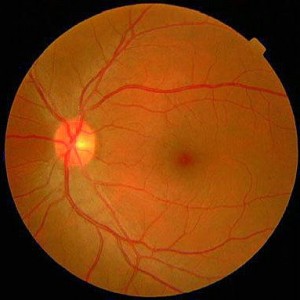 (Is it me, or does the inside of the eye kind of resemble one of those lightning balls?!)
I am a self-proclaimed body nerd (hence, my love for what I do!). I find the human body endlessly beautiful, fascinating and AWEsome. Even so, I too take my body for granted and feel ho-hum from time to time. When I catch myself in this feeling, finding something to be fascinated by almost always snaps me right out of it.
I love challenging myself to feel fascinated when I'm feeling awesome AND when I'm not feeling so great.
Yes, the body, YOUR body, is beautiful, fascinating and AWEsome no matter the state of its health, wellness or appearance.
It does amazing things no matter what's going on (breath, hug, imagine, think, blink, walk, to name just a few). And while there might be things that are hard or harder to do at the moment, I'll bet there's a lot you CAN do. You might even be surprised at how much you can do.
I find movement and receiving bodywork to be two of my favorite ways to reconnect to a sense of fascination, especially when my body is feeling a little less than awesome.
Moving, especially moving in new ways (one of the many reasons I love to dance), allows me to experience my body in ways I'm not accustomed to. I can often do more than I expect, even when I'm having some pain, and am amazed that, after over two decades of dancing and exploring my physicality, I STILL find new ways to move. And this fascinates and inspires me to no end.
Receiving massage and bodywork allows me to experience bodily states that I find beautiful and fascinating and that are challenging to achieve on my own (deep relaxation, for one). What I gain in heightened self-awareness (not to mention simply feeling really good!) inspires and fascinates me.
If you're feeling a little ho-hum about your body right now, or just want to reconnect to a sense of fascination (it's always a good time for that in my book!), your Gentle Nudge is to take a little movement break and just explore all the ways your fingers can move. Peel them off your keyboard or smartphone and slowly bend and straighten your fingers and rotate your wrists. Look at how many ways they can move! Sense into all the amazing things they can do and feel!
Or pick one of your favorite body parts and do a little research about how it works (I highly recommend the eyes. The way vision works is utterly miraculous).
Or, carve out a little time to come in for a bodywork session! Click here to book an appointment now.
Now go, enjoy your body!
With love + fascination,
Helena