I'm a huge fan of hugs, but sometimes, what I truly truly desire most is to have my head held. Not my hand, my head. Are you with me on this? In fact, that is often my favorite part of receiving bodywork; a moment (or two) to give over the never-ceases-to-amaze-me weight of my head to someone else and be held in that way. Not surprisingly, one of my favorite things to do is to hold my clients' heads.
I had a client once, she'd just retired from decades of service as a high-ranking military woman, and as I held her head, she softly proclaimed that she'd never really let anyone do that before. It was a powerful experience for us both.
There is an expansive vulnerability that occurs when we let someone take the weight of our head. It is as if they are taking the weight of our thoughts, our fears, our sadness, our exhaustion, our pain. Our insatiable desire to control and plan our way through life. Our striving to keep our chin up or keep our head above water.
We can just be in those moments. Safe and contained. Floating. Be in a way that hopefully we were when we were a baby or even before our spirit entered our body.
So I challenge you to seek opportunities to have your head held. Maybe by a partner, a trusted friend, or a trusted bodyworker. I will sometimes hold my own head, placing one hand on my forehead and one right over where my "soft spot" once was. Or I will hold my palms in front of my face, elbows locked into my chest, and lean my jaw into my hands (this provides some delicious traction through the neck and it can be surprisingly comforting to hold your own jaw shut, if you're a fellow jaw clencher ; ) Play with it.
With love + Happy Head Holding ♥
Helena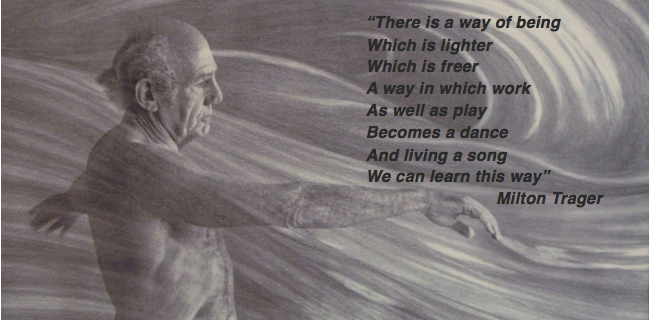 As you read this, I'm in Day 3 of an intensive Trager Approach Level 1 workshop, and it is incredible! My teacher is a woman who took Milton Trager's first workshop at The Esalen Institute some 30 years ago. Pretty neat. Click on the photo to watch a very short video of this gentle, freedoming (yes, I just turned "freedom" into a verb) work in action (you might drool a little). I'm excited to see how this will inform and expand my work, and I can't wait to share that with you!