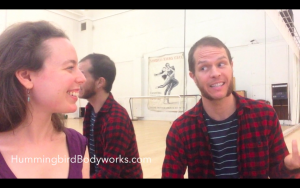 Today is a VERY special edition of Gentle Nudges because it's an INTERVIEW! On VIDEO! Whoa…
I had the pleasure of chatting with my pal, James Graham, who teaches something called Gaga Movement Language.
No no, this is not the creation of Lady Gaga, but rather of acclaimed Israeli choreographer, Ohad Naharin, of Batsheva Dance Company.
Gaga has meant a lot to me over the last few years. It's helped me recover from a dance related back injury (you can hear more about that story at 5:50 minutes), been a wonderful tool for building strength and stamina, deepened my self-awareness and sensitivity, and given me a chance to play and move freely with others in a safe, relaxed, non-judgmental setting while having FUN!
Not to mention, I seem to get some of my best ideas in class (I guess Gaga is my version of a shower in this sense : )
If you've been looking for a new way to incorporate movement into your life (especially if you are working with injury, pain, or another physical challenge) or have always wanted to try a dance class but been too afraid, then I invite you to watch this as you settle into your day.
Adding more movement and more pleasure to your life is always a great idea, and a wonderful compliment to massage and bodywork. So your Gentle Nudge is simply to WATCH this video. Then challenge yourself to consider the idea of trying out a class, or finding another way to add more pleasurable movement to your day. As you'll hear us talking about at 4:04 minutes, moving keeps you young : )
With love and Gaga,
Helena
P.S. If you like what you watch, make sure to share it, tweet it, and forward it to your most favorite peeps and inspire them to move and feel better in their body right now!
P.P.S. Feeling brave and wanna check out a class? James teaches a drop-in class on Tuesdays from 6:15-7:15pm at the San Francisco Conservatory of Dance on 8th Street and Folsom. $15. Open to all levels (really and truly). Click here for James' teaching schedule. For all class listings across the globe, click here.