I offer Massage and Bodywork in Berkeley, CA
(I also occasionally see clients in Manhattan, NYC. Sign up for my Gentle Nudges newsletter to make sure you receive notification of my NYC availability.)
How to Book Your Session:
NEW CLIENTS: Please email me at HelenaTF at Gmail dot com and tell me a bit about why you are seeking my services at this time so I can make sure we're a good fit for working together, and we'll go from there. If you wish to speak on the phone, please let me know, I'm happy to make the time.
RETURNING CLIENTS: Email or call me to schedule your appointment.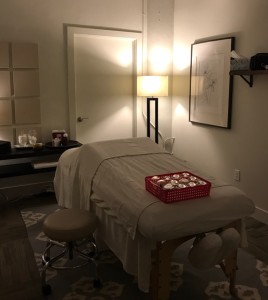 Location:
My peaceful studio is located at 2315 Prince Street (just west of Telegraph Avenue) in Berkeley, CA. I'm a 10min walk from Ashby BART, and there is ample street parking nearby.
Hours:
Sundays, 11:45am – 4:30pm
Mondays, 10:30am – 1:30pm

Services:
RESET: Treat yourself to a little extra time to more fully relax, explore and address a chronic or acute issue, and allow tension to gently float away during this Sixty-minute experience. ($170, all-inclusive)
REALIGN: During this Ninety-minute experience, we'll have ample time to explore and gently untangle a persistent or acute pain issue while leaving plenty of space for relaxation that you can feel on a cellular level. (New clients: This session offers the best value as it gives us a chance to discuss your health history, goals and preferences, and leaves time for unhurried hands-on work.) ($210, all-inclusive)
DEEP DIVE PROGRAM: This 12 week intensive is specially crafted for people ready to jump in with both feet and address a sticky persistent pain, stress, or movement issue. First, we'll clarify how pain and stress are impacting your life (from making it so you feel you're at war with your pillows in an effort to sleep comfortably, to falling behind at work or missing out on activities you enjoy due to pain or exhaustion — sound familiar?).

Then, we'll get clear on your specific goals, craft a vision for your success, and meet regularly over three months to generate serious healing momentum.

Our daily habits and mindset are where the rubber meets the road. Beyond the hands-on support you'll receive from me, this is how long-lasting transformation occurs. I'll be there for you each step of the way (with support from me between sessions) as you explore new tools, practices, resources, and ways of engaging with yourself and your life.

The Deep Dive is perfect for new clients ready and eager to gain a foothold on breaking the pain and stress cycle. Also good for existing clients wanting to bump things up a notch or two and receive extra support around an ongoing issue.

This is my highest level of support; spaces are very limited. Click here to fill out my Contact Form and tell me what prompted your interest in the Deep Dive Program, and list 2-3 times you're available for a complimentary 20min chat to learn more and see if this Program is a good fit to get you the results you want in your life!
"Massage with Helena has been essential for me in managing chronic back, shoulder, and neck pain as well as the stresses of life that play out in the rest of my muscles and bones. Helena is a very professional, highly-skilled massage therapist. I recommend her for anyone searching for a massage experience that leaves you feeling relaxed, restored, and rebalanced." – Nicole Rienecker, Founder & Creative Director of Neekdesign
Healthy Rewards Program:
To support your dedication to your self-care and wellness goals, I've designed packages of sessions to help you save money on (at least) monthly bodywork! Save $5/session when you purchase a Package of Three, and save $10/session when you purchase a Package of Six. Packages expire 3 and 6 months from date of purchase, respectively. Ask me about purchasing a package during your next session!
Gift Certificates:
Could someone in your life – a friend, family member, partner, or colleague — use a little TLC? Email me at HelenaTF at Gmail dot com to purchase them a gift certificate.
Tipping Policy:
I view the work I do as integral to one's health and healing process, and therefore run a 'tip-free' practice.
Covid Practices:
As of August 2023, I am asking clients to wear a surgical or KN95 mask before/after table work, and during table work. You are permitted to remove your mask when lying face down or during facial/jaw work. I will remain masked throughout your session. An air purifier will be running at all times. These measures are in place to provide a layer of protection for us both and for other clients who see me, some of whom are immunocompromised.
Cancellation/No-Show Policy:
If something comes up and you need to cancel or reschedule, please do so within 48hrs of your appointment so that I can try to accommodate other clients wanting that time slot. As is the industry standard, I do charge the full rate for missed appointments and late-cancellations/reschedules. This includes moving your session to a new time on the same day.
"My session with Helena was hands down the best massage/bodywork I've had. After suffering from constant back pain as a result of playing an instrument for long hours, I've done a lot of bodywork and no other offered more relief than Helena's. It's obvious from the beginning that she has an extremely high level of technique and is passionate about her work. Apart from the pain relief, the session was also more relaxing and calming than I've ever had. I left feeling a greater awareness about my own body. I can't wait for another visit. Thanks, Helena!" -Alan R., San Francisco, CA
***
"Helena's work has and continues to help my body heal, deeply relax, and helps me nurture a loving and communicative relationship with my body, and my self! I have had chronic neck and back issues for many years. Since working with her, my neck and back have calmed down! I used to fight with my body. Now, with Helena's help, I know how to better work with and for my body.

Helena's work is not like a usual massage, but it is so deeply relaxing and satisfying. I can get to a place of deep inner peace that is difficult to do alone. I'd recommend her services to people learning to care for themselves, to sensitive people, and to anyone open to the benefits of gentle, full body relaxation. I'd also recommend her to people who are sometimes harsh with themselves, and who are open to practicing being gentle and loving instead." – Elise N., Psychotherapist, San Francisco, CA
***
The center of my practice is YOU! My sessions are custom-tailored to meet your specific goals and needs as they ebb and flow, and I am committed to working with a select group of people invested in their well-being and healing. Unlike some spas that try to cram in as many clients as possible, I limit my availability to ensure you get me at my best. I want to help you experience your body in new, inspiring ways, develop a more empowered relationship with your wellness, and feel truly cared for. You deserve this. Are you ready?
Book Your Session:
NEW CLIENTS: Please email me at HelenaTF at Gmail dot com and tell me a bit about why you are seeking my services at this time so I can make sure we're a good fit for working together, and we'll go from there. If you wish to speak on the phone, please let me know, I'm happy to make the time.
RETURNING CLIENTS: Please email or call me to schedule your session.